The 20. International fair for technology in metal machining opens from 20. to 24. February 2018 in Düsseldorf.
On METAV show visitors will find the complete spectrum of manufacturing in metalworking industry. Main focus is made on machine tools as well as production systems, precision tools and computer technology.
At our booth A76 in hall 16 we are going to show a small section out of our range of products.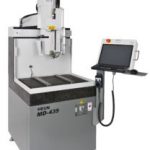 With the EDM small hole drilling machine type MD-435, insertion of high-precision holes is fast and easy. On this Micro Drill machine electrode diameters from 0.08 to 3.0 mm can be used for machining. The CNC type with electrode changer makes unmanned insertion of holes possible, starting with electrode diameter of 0.4 mm. The machine is equipped with an external tank- and filter unit and also available with oil basin.
Easy handling on the one hand as well as very small, however, high-precise inserted drill holes of 0.12 to 0.3 mm on the other hand, are the aspects in favour of the EDM drilling machine type MD-435. Low wear of electrode, fast machining time and easy programming are further advantages of this machine.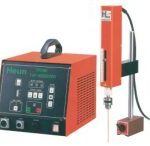 Broken tools are no problem anymore. We offer a fast and cost-effective solution for these problems with the portable device TR100 of Heun. Depending on material and size or form of the broken screw tap, the removal out of the work piece can be very difficult. Because of the easy handling of the TR100 such tools can easily be removed. It is applicable all-around. No matter whether big or small work pieces or straight or inclined surfaces. Heun TR100 is your most reliable partner. The portable device of compact design works fast, cost-saving and with high efficiency. Because of the swivel head also machining positions difficult to access can be reached.
For dielectric fluid normal supply water can be used. Each brass- or copper electrode can be applied. No damage of thread when removing the broken drill bit. Machining of carbide or hardened steel is possible with TR100. Amongst other functions are auto feed, depth setting and auto retract. We are looking forward to your visit!