An additional option for the high-speed EDM drilling machines of APos series is integration of a camera system. It is used for position recognition and quality inspection. The automated visual inspection records the test object and processes the data on an image processing controller, to which commercially available monitors can be connected. On the APos machine it is displayed on the machine monitor via remote desktop setting. Real-time monitoring is possible with this system. Operation is very easy. The device has automatic calibration as well as high-capacity position detection. It is a universal camera system for users without programming skills.
The function "pattern search" identifies certain features on the measuring object and transfers the positioning data. This requires an interface for communication with an SPC, which is developed on Project basis. The system consists of camera, lenses and lighting. It performs preprocessing and measurement processing and outputs evaluation results. Thereupon transfer to the controller, safety devices or other devices is carried out. Retrofitting is possible on the machines of the APos series. The user interface with icons is easy understandable and allows intuitive operation with the mouse. Additionally, while settings are made, the area can be edited directly with the mouse on the display.
Minor adjustments are possible via the user-friendly operator interface. From a variety of preset surfaces, the correct one can be selected. Numerous communication methods as well as various monitoring functions are available. The connection to SPC of different manufacturers is supported. This allows easy integration into existing systems.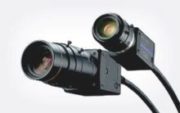 The extremely fast and powerful image processing system can be used to check the drilling process. The aim of Heun is to develop a program to recognize drill holes which have not been machined or reclosed within specific Drilling patterns. The system then determines the first and the last correct drilling position, calculates the positions of the intermediate drill holes from the already known values and automatically creates these missing or closed drill holes.
Your requirements – our solutions. Challenge us!
Visit us in Hannover EMO 2017 –  our booth  – Halle 13 / Stand A102!