APos 800 CNC / APos 1200 CNC
High speed small hole EDM drilling machine with PC control System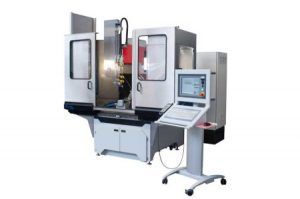 For the machines of these series a completely new layout was designed in co-operation with company Abacus GmbH. The machine body is made of mineral concrete. The main features and advantages of this new conception are:
High stiffness and thermal stability
Fully cased working area
Axes compensation
Intelligent tool handling
High power generator for best drilling results
Completely manufactured in Germany
Large package of options
Robot connection
EDM milling
And much more…
The new machine body is an especially developed, modular construction. The usability of the machine series is improved again by rearranging of the layout. Control system and generator are now placed in two separate electrical cabinets. Altogether a compact construction with small required space has been developed. The new housing, made of stainless steel meets highest safety standards. It can optionally be used as basin for machining in water or oil.
Technical Data APos 800 & APos 1200
| | APos 800 | APos 1200 |
| --- | --- | --- |
| Travel X/Y/Z/W | 800 x 600 x 600 x 700 mm | 1200 x 600 x 800 x 700 mm |
| Max. work piece weight | 3000 kg | 3000 kg |
| Machine dimensions WxDxH | 1400 x 2200 x 2400 mm | 1400 x 2200 x 2500 mm |
| Machine weight | 3000 kg | 3300 kg |
| Rough adjustment Z-axis | 20 – 600 mm | 50 – 800 mm |
| Controlled W-axis | 700 mm | 700 mm |
| For electrode diameter | 0,1 – 3,0 mm, optional till 6,0 mm | 0,1 – 3,0 mm, optional till 6,0 mm |
| Usable electrode length | till 800 mm | till 800 mm |
| | | |
Examples of use APos
Examples of use
Pictures
Tool manufacture
Connection drilling
Turbine blade
Turbine
Deep hole drilling
Deep-hole drill
internal cooling channel
Temperature sensor
Rock drill
Cutting punch
Forging die
exhaust boring
Taper reamer
wash boring
Taper reamer
Sample machining
Sample processing
Cutter head
Punched plate
Vane
Cooling hole
Bone screw
Bone drill
Screw tap internal cooling
Mould making vacuum hole
Profile tread design
Injectors
Nozzles
Pressure absorber sensor hole
Turned parts
Pin
Diesel injection valve
Dental needle
Ejector pin