Corporate manufacture of perfect drill holes
With EDM drilling it is possible to produce smallest drill holes, independent of material hardness. The EDM drilling experts of company CFK meet the challenges of their customers for machining of their work pieces every day. Support is given by the EDM drilling units of company Heun.
The service provider CFK, based in Kriftel, is a competence center for wire cutting, die sinking, EMD drilling as well as additive manufacturing. The machining performed by CFK covers a very large spectrum. They operate in the field of electrical discharge machining for 30 years already. Therefore, they have a wide field in the range of EDM drilling technologies and have great experience. Meanwhile 70 employees manufacture very small up to very big parts – starting with surgical grippers in the micrometer range up to turbine parts and shape plates, which can have a weight of up to 4 t.
The quantities are also variable, from single pieces up to serial production of 500.000 parts and more. One skill of CFK is EDM drilling. Here not only start holes for wire cutting are produced, but also individual drill holes in different drilling angles are manufactured as well as single- and serial parts with complex hole pattern are machined. Start hole drilling is required for subsequent processing with wire cutting machines. For simple work pieces, the start holes are manufactured manually, for complex parts a program is generated out of CAD/CAM data. For challenging cooling holes or parts with hole pattern, the generation of processes and methods as well as optimization of drilled holes is often developed in cooperation with the customer.
A special feature in processing by CFK is the five-axis EDM drilling with a likewise five-axis programming. The five axes are required for positioning of the work piece, since the electrode is only able to travel vertically. With this five-axes positioning it is possible to carry out accurate slanting drillings, as for example start holes for inclined breakthroughs, cooling air holes into turbine parts or channels for bristles into molds for manufacture of toothbrushes.
Besides of individual productions for mold and die industry as well as automotive industry, CFK has specialized in the field of aviation and medical technology. For this purpose, the corporation is certified according to EN 9100, Nadcap (aerospace industry) as well as EN ISO 13485 (medical engineering).
"Especially for turbine industry we have acquired extensive programming- and technique know-how" tells Christoph Over, managing director of CFK. The requirements very often result in frozen processes, which require a firm working procedure. "Just in large-part manufacturing everything must be very accurate", explains Over. "The raw parts are very expensive. Thus, it is not possible to just try."
Wide processing spectrum
High competence in this field as well as the wide processing spectrum make CFK a sought-after provider in the range of EDM drilling. When an expansion of the machine parks for EDM drilling took place, the persons responsible decided for a Heun machine – by the way, already repeated: Since 1997 machines of Heun have been installed in the hall of CFK. Up to now there is one three-axes Heun APos 600, one three-axes Heun APos 1200 and two five-axes Heun APos 1200. A third five-axes machine will now be added. With this machine pool of Heun, CFK can machine work pieces of the size of 2000×1200 mm, up to a height of 800 mm and a weight of 8 t. The maximum travel is 1200x600x800 mm (X/Y/Z). Electrode diameter from 0.1 to 6 mm can be used. Furthermore, the machines are equipped with a 70-fold electrode changer in order to allow run-time of 24 h. "That is why we are one of the few wage-based service providers with these machine sizes and wide spectrum", states Over.
Since the acquisition of the first machine of Heun, a close partnership exists between the machine manufacturer and CFK. At that time, the geographical proximity and the fact that Heun was one of the most experienced German producers of CNC machine in the field of EDM drilling, was the main reason for the purchase. "Also, when the five-axes technology was introduced, Heun still was relatively unrivaled", explains Over. "Heun was one of two candidates and simply gave the better value for money." Therefore, they remained with the already tried and tested machine manufacturer.
Proven machines and systems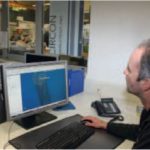 Even today CFK is very satisfied with the cooperation with Heun. Between the two companies, there is an exchange of information and, among other things, a detailed and, above all, fast consultation is possible due to the spatial proximity. Over knows, that "the quality is right and meets their need". It is also very important, that the employees already have experience with the Heun-machines and the related control system and thus, do not have to be retrained. The EDM drilling machines of Heun run with Peps, which is one of the leading CAM-systems in the area of wire cutting, mainly because of its easy operation and the possibility to program different conics. The employees of CFK already know this system. That is why it makes sense to only purchase new machines, which run with Peps, like the machines of Heun. Another advantage is the machining speed of the Heun-machines. "With hundreds of holes to be drilled, it must be fast", states Over. "Speed and precision are the key factors in EDM drilling." and not only in this process, but also for start hole drilling, the speed plays a major role. "The start hole drilling usually is a necessary evil and one wants to get over with it as quickly as possible", says Over.
Cooperation strengthens both sides
The well-functioning technology is one thing. The other thing is the close partnership between the manufacturer of the machine and the operators. There is an active exchange between the employees of CFK and Heun. "For example, before the order of the new machine was placed, two employees have been at Heun and have tested with some work pieces, whether the machine meets our requirements or not", tells Over. Where this is not the case, the companies cooperate to solve the particular problem. Because finally, Heun also grows with the requirements of its customers. Heun listens to the wishes of the operators and thus, can develop together.
Contact:
C.F.K. CNC-Fertigungstechnik Kriftel GmbH,
D-65830 Kriftel/Taunus
Tel.: 06192/9945-0, www.cfk-online.de
Heun Funkenerosion GmbH,
D-63796 Kahl am Main
Tel.: 06188/910-510, www.heun-gmbh.de